Faith Fortuné shares her volleyball experience at CSUSM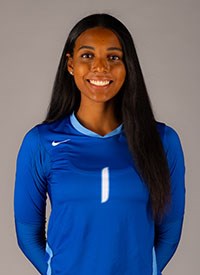 Molly Smith, Assistant Sports Editor
November 7, 2018
Faith Fortuné didn't dream to play volleyball at all, until her P.E. teacher encouraged her to try out in eighth grade.
"I'm the only one in my family that has played volleyball that I know of.  When I started, my mom didn't really know much about it, but she always encouraged me to do whatever I wanted to do," said Fortuné.
Even though it wasn't always her dream to play at a college level, it was always in the back of her mind.
"I didn't really know exactly what I wanted to do in the future, but it was something I'd kind of hoped I would do," said Fortuné.
When it comes to playing the game, she always liked blocking and thought she could excel at it.  Her biggest accomplishment in her career is breaking CSUSM's blocking record last year. In total, she has 289 blocks according to csusm.edu/athletics.
An overall goal she has with being a student and an athlete is to finish school with a high GPA.  
"Being [division II], we get to have the best of both the athletic world and the academic world so I want to be successful in both," she said.
Since she doesn't have any siblings, what Fortuné enjoys most about volleyball are all of the friends she's made along the way.  
Fortuné advises future college athletes to " … stay organized and remember school is a big priority and it could impact your athletic life too.  And on the court, always be a team player because the team comes before yourself, so be supportive no matter what."
Come and cheer our Cougars as they will be playing against Cal State East Bay in the 2018 CCAA Championships on Nov. 8 at 2:30 p.m. in Turlock, CA.