Quick and easy tips for students to stay energized this semester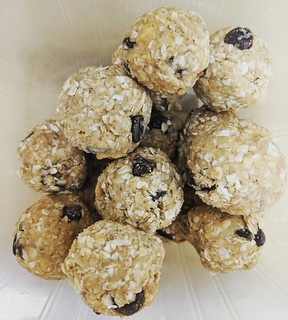 The fall season is coming to campus and that often inspires a sense of wanting to adopt a new and healthy lifestyle, but given that midterms are fast-approaching for many, eating healthy (or even eating a proper meal at all) can be a challenge. 
If you find yourself in a hurry to run out the door in the morning, here's an easy and delicious recipe that takes little to no time to make. Chocolate chip energy bites provide a quick snack or meal on the go that keeps you full and energized enough to get you through that boring lecture or a long day at work. 
This recipe only requires a few simple ingredients that you might be able to find at home or can easily be picked up at the store. All you need is one and one-fourth cup of oats, a half cup of peanut or almond butter and a  half cup of chocolate chips. If you want, you can add about 2 tablespoons chia seeds, hemp seeds or flax seeds. If you are allergic to nuts, you could substitute the nut butter for soy butter or sunflower seed butter. 
Once you have all your ingredients, combine them in a large bowl and stir until everything sticks together like dough. Then take a spoon or an ice cream scoop and form the mixture into bite-sized balls and place them on a baking sheet about half an inch apart. Then place them in the fridge or freezer to solidify as they chill. When stored in the fridge the energy bites are softer which may require a spoon to eat them. When stored in the freezer the energy bites become more solid and should be easier to handle and eat. These snacks usually stay good for up to two weeks in the freezer. 
The energy bites are a good snack to quickly throw in your bag on the way to work or class. In order to make things easier, you can store them in small individual Tupperware containers and keep them in the freezer. That way you can simply grab a prepared serving size and a spoon on the way out to eat it on the go.