Mulan brings a realistic approach to the traditional tale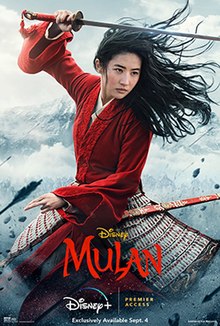 The new live-action remake of Mulan breaks waves in the cinematic universe of Disney. With a slightly different story to tell, this film honors the 1998 original while producing new ways of appreciating Chinese culture. 
Although the new film lacked certain memorable aspects of the original, Mulan gives its audience a fresh experience of a young woman who overcomes the societal barriers of her time and culture. 
Traditions of the film include serving tea and matchmaking. Playing off of the original animated film, the new Mulan gives more context and explanation of these practices. Disney's approach with this film is to give historical reverence to Chinese culture, which is why the film was formatted realistically. 
Played by Liu Yifei, the title character is renamed Hua Mulan in order to maintain historical accuracy. Yifei delivers in her role by giving a devoted and athletic performance. 
Jet Li fans will also be excited to know that he returns to the screen playing the Emperor. Being a long-time action star, it comes as a surprise that he steps into a large role once again.

The story begins with Hua Mulan as an independent and non-conforming young girl within her small village. She is expressed as having high levels of "chi" – a term used in Chinese philosophy and medicine to explain one's energy force. Her "chi" is a recurring symbol that explains her rebellious nature and her ability to join the Imperial Army.
Another important symbol throughout the film is a phoenix. A representation of power and female members of a royal family, the phoenix guides Mulan throughout her journey by encouraging her and giving her strength. 
Aside from battling northern invaders, Hua Mulan must come head to head with a witch known as Xian Lang who has the ability to morph into a hawk. This dynamic between Hua Mulan and Xian Lang shows the two sides of powerful women. 
Mulan chooses to fight for her country and bring honor to her family, whereas Xian Lang uses her power to seek revenge. 
It is no secret that this film lacked certain elements of the original film that fans loved. Though we did not have the comedic relief of Mushu or the catchy songs from the original film, Mulan brings a new take on an original film to the table. 
This film gives the audience a new perspective into Chinese culture and brings honor to the iconic figure Hua Mulan.
The Cougar Chronicle The independent student news site of California