Students receive take-home lab kits
The College of Science, Technology, Engineering & Mathematics (CSTEM) distributed over 500 take-home lab kits to students this semester.
The kits corresponded to labs in several disciplines including biology, chemistry, physics, engineering and computer science and enabled students to have a hands-on learning experience despite being at home.
"In order to run labs virtually, [students] still have to have supplies, and they're not supplies that necessarily they can get on their own," said Courtney Nance-Sotelo, a Lab Coordinator in the biology department. 
Nance-Sotelo and her colleagues assembled the kits over the summer. "Professors would give us a list of everything they wanted in the kit, we would attempt to order it, then box it up and have it ready for them to pick up, and if they lived out of the area, then we would ship it to them," said Nance-Sotelo.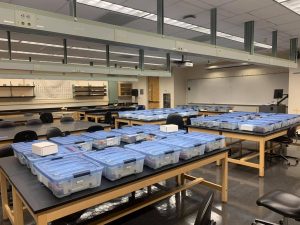 Preparing the kits proved challenging due to a nationwide shortage of lab materials. Getting equipment for electronics courses was especially difficult. 

"There's pretty much one company that makes [the electronics course equipment], and so every university across the country was trying to get those," said Janine Smock, a Lab Coordinator in the physics department.
Another struggle was the affordability of giving each student their own equipment. To cut costs, students in some labs will have a microscope for half the semester. They will return the microscope to CSTEM at the semester's midpoint so it can be sanitized and handed out to other students in the class. 
CSTEM distributed the kits after the add/drop date, to make sure that everyone who received a kit was planning on completing the course.
"You don't want to give out a microscope and have the student drop," said Nance-Sotelo. 
Distribution of the kits was spread over several days and CSTEM worked with many campus departments beforehand, including Event Planning, University Police, Parking Services, Integrated Risk Management and Safety, Health & Sustainability.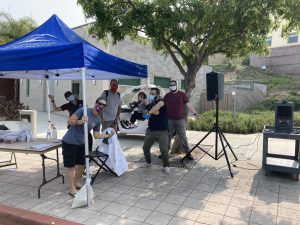 "We required [students] to bring three things: their ID, their own pen and a mask," said Jeani Cressy, a Lab Coordinator in biological sciences and biotechnology. Students signed paperwork to verify they had received the correct materials and to assume responsibility of the kit. 
CSTEM did not charge a fee for the kits. 
"If it didn't come back to us then they would be charged for it, but assuming they took care of it and returned it, then there would be no cost for that, so that they could have the best experience in that class without adding extra cost," said Smock.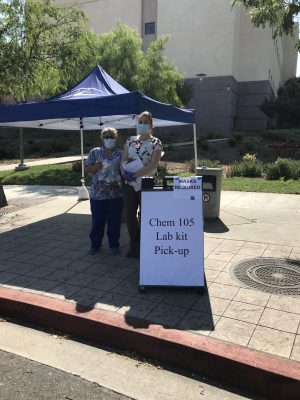 The kits offer a compromise between hands-on learning and staying safe, said Cressy. "Ideally, it's always face-to-face with no restrictions. Of course that's always the best way to learn anything," she said. 
"… [Students receiving kits] have the best of both worlds, where they're safe … and also getting a good lesson in the lab," said Cressy.
An advantage of kits is that students can work on them on their own time. "Although I wouldn't choose kits over in-person if there wasn't a pandemic, there is one small silver lining … they have [the kit] there whenever they have a moment, if it's a weekend, that they have it there and can continue to tinker with it and learn," said Smock.
Zameer Karim, a senior pre-law political science major, has found the kit he received for his electrical engineering course effective. 
"It is a little more difficult than in person, but with the extra tutoring, open lab hours and office hours with video conferencing software … it is definitely not that bad. I have been learning a lot, and as I get more familiar with the tools provided by the school, the class is getting easier and I am completing the labs more rapidly," wrote Karim in a message to The Cougar Chronicle.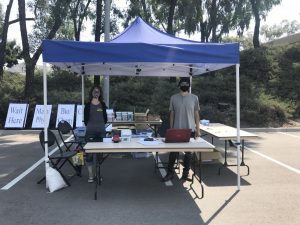 Karim, who said his kit contained about $1,000 worth of equipment, appreciates that the school provided the expensive equipment instead of making students purchase it. 
The Lab Coordinators said it was rewarding to see students receive the kits that they had prepared all summer. 
"It actually was fun … we wanted to make it a celebration of being able to study, to keep going forward. At least you can take it home if you can't be here, we're here for you to support you. And I feel like the response we got back from the students picking up, that's what they felt," said Cressy.
"The amount of time it took to put together these kits was all summer … it was so nice even for that one moment that we got to see them," said Smock.
CSTEM is on Instagram @cstem_csusm.
The Cougar Chronicle: The independent student news site of California State University, San Marcos