Tuition cost to remain unchanged despite student petition
According to spokespersons from CSUSM and the CSU, revenue from student tuition and fees is essential to keep universities going.
This story was updated on Dec. 13 with details on how the CARES Act funds were allocated.
CSUs will not lower tuition or fees for the spring 2021 semester despite students calling for reduced costs due to the mainly virtual instruction and the unavailability of in-person campus resources. 
The cost of resident tuition at CSUSM is currently $2,871 per semester for a full-time undergraduate. In addition, students pay $988 per semester in fees, including a $75 Health Services fee, a $20 Health Facilities fee, a $10 Child Care services fee, a $91 Mental Health fee, a $315 Student Union fee and more.
A petition urging CSUSM to lower tuition has collected close to 1,000 signatures so far, but the CSU and CSUSM both say that tuition and fees are essential and will not be reduced in spring.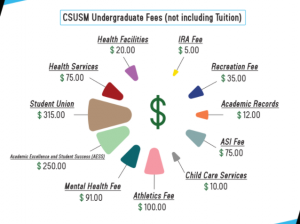 Mike Uhlenkamp, Senior Director of Public Affairs for the CSU Chancellor's Office, said that tuition fees cover the cost of instruction which is still being delivered, although in a different modality than usual.
Uhlenkamp said that the results would be catastrophic if they reduced tuition. 

"We would have to reduce programs, let go of employees and it would affect the instruction students get," he said.
Uhlenkamp said the Chancellor's Office understands that students feel there should be a deduction, but that it costs more to deliver instruction virtually than in person. 
"For example, we have infrastructure costs to expand IT, we have to expand Wi-Fi, there's professional development taking place on campuses, campuses are providing students with tens of thousands of Wi-Fi hotspots, iPads, Chromebooks, you name it. There is a cost associated with them. The great majority of CSU students don't pay tuition … about 2/3 of CSU students don't pay tuition," he said.
Cameron Sneed, a senior communication major, agrees with the students who signed the petition to lower tuition. 
"We're not having the same form of face-to-face interaction with our professors, we're not having any events, lunch, any kind of free meals or swag," said Sneed.
Sneed said that his learning experience has worsened with remote instruction. 
"I'm just trying to do the work, read the next chapter and be ahead rather than fall behind. Before COVID-19 I felt like balancing school and work was a lot easier because it was in person," said Sneed.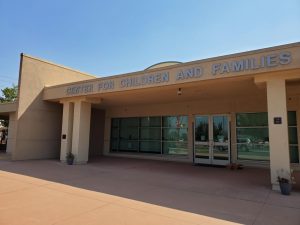 Margaret Chantung, Chief Communications Officer for CSUSM, said in an email that revenue from student fees is funding resources that the university still offers and staff salaries.
"Student Health and Counseling Services is offering virtual health and counseling appointments and certain physical health services, and the University Student Union has made available an in-person computer lab to ensure our students have access to technology. Providing these services during a pandemic requires CSUSM to implement various safety protocols, including increased sanitization. These fees also support the faculty and staff who are working to provide our students with access to virtual programming and services," wrote Chantung. 
CSUSM is facing a loss of approximately $18 million due to state budget cuts, increased expenses and lost revenues, according to Chantung. 
Similarly, the CSU system has lost over $300 million because of the pandemic, Uhlenkamp said. The deficit is because of revenue loss and extra expenses.
"In order for us to provide the best possible education, the revenue [from student fees] does need to exist to provide those services," Uhlenkamp said. 
Regarding mandatory fees such as the Student Union fee, Uhlenkamp said, "In San Marcos it was 1982 that students agreed to pay a student fee to fund construction of facilities. It is like a mortgage. Just because we are not using that property does not mean the mortgage goes away."
In addition to revenue from students, CSUSM has also received funds from private donations and from the federal government via The Coronavirus Aid, Relief and Economic Security (CARES) Act.
Chantung said that CSUSM has raised over $160,000 in private donations, which it has used to support students via the Student Relief Fund and Student Emergency Fund. 
CSUSM received about $15.9 million from the CARES Act. They were required by the government to use least half of the money to directly assist students struggling financially via emergency grants.
CSUSM spent exactly half (50 percent) of the CARES Act funds for emergency grants ($7,981,518 of the $15,963,036 received from the federal government), according to a document called "CARES Act – Funding Allocations" released on the Office of the President's website.
Of the remaining approximately $7.9 million, the vast majority (over 70 percent) was used to fund "partial operational losses – including refunds to students" in the areas of parking and housing.
The remaining approximately $2.2 million has largely been used to support virtual learning.
"We have used CARES Act funding to support the enhancement of faculty virtual teaching and to purchase laptops, webcams and Wi-Fi hotspots for students in need," Chantung wrote.
Uhlenkamp said that prior to the onset of the pandemic there had never been a better time to be a CSU student. 
"Graduation rates are at an all time high, enrollment is at an all time high, we are getting more funding from the state of California and we only increased tuition once in the last seven years," said Uhlenkamp.
To read the full breakdown of how CARES Act Funding was spent at CSUSM, see this document.
The Cougar Chronicle: The independent student news site of California State University, San Marcos