[email protected]/x Center celebrates five year anniversary, offers services virtually
In its fifth year, the [email protected]/x Center is continuing to offer students the events, resources and support that it always has – just virtually.
The [email protected]/x Center's goal has been to provide [email protected]/x students with a feeling of community and academic support ever since its opening on Sept. 17, 2015.
"Since its inception, our focus has been ensuring our students are able to … one, have a sense of belonging, a sense of community on campus … and two, that they are able to increase their academic confidence and motivation, and ultimately to have a sense of empowerment," said Dr. Renzo Lara, the [email protected]/x Center Director.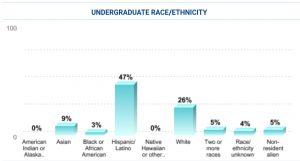 Forty-seven percent of CSUSM students were Hispanic/Latino in fall 2019, according to the most recent data from The National Center for Education Statistics.
All students are welcome at the center, said Lara, not just [email protected]/x students.

"While we focus on Latino/Latina/Latinx identity and development and leadership, we also are open to anybody, so anybody can come in our space … it's an inclusive space," he said.
The [email protected]/x Center is operating remotely, offering drop-in hours on Microsoft Teams and holding virtual events.
"In this time of COVID, I think a lot of students are looking for a place where they can create a community and connect … if people just want to come in, chat with other peers and express what they're going through with COVID or their classes, that's what we have the [Microsoft Teams] channel for, it's a place for people to connect and create community," said Lara.
The drop-in hours on Microsoft Teams are Monday through Friday from 9 a.m. to 3 p.m.
"The challenge has been now to really get the word out about in regards to our Microsoft Teams channels, that we have a community, that we have an online presence," said Lara.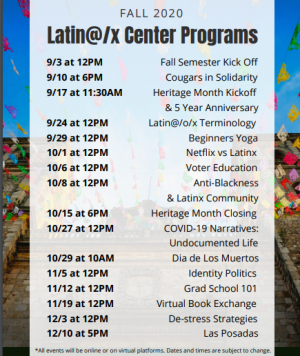 Lara said the center cut back on the number of virtual events it is offering this semester. 
For example, during Latinx Heritage Month, which is from Sept. 15 to Oct. 15 every year, the center typically offers 10 to 12 programs. However, this year, there were seven events during Latinx Heritage Month.
Attendance at virtual events has been lower than at the in-person events the center is accustomed to, Lara said. 
"Students have classes back to back on Zoom, or they're on a screen, and it's a challenge for them to come in for an hour for a program," said Lara. 
The [email protected]/x Center also uploads recordings of events to their YouTube (the channel name is CSUSM Latinx Center) or to Microsoft Teams for students to watch on their own time.
"The other thing that we've been proactive about is really increasing our social media presence through our engagement," said Lara.
The center posts upcoming events, staff introductions and "Country of the Week" showcase videos on their Instagram (@csusmlc). 
The center's increased social media presence appears to have paid off – its Instagram following grew by about 250 over the last few months.
Because it is operating virtually, the center is unable to provide the physical services that it normally does, such as testing supplies, printing and hygiene kits.
The center now refers students to other campus resources for certain services. Students looking for study spaces or free printing are told about the USU computer lab while students struggling to fill basic needs are referred to the Cougar Care Network.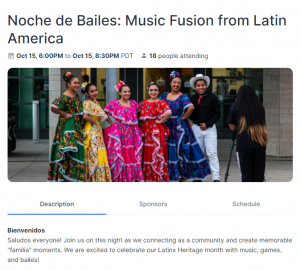 The [email protected]/x Center's next virtual event, a celebration to close out Latinx Heritage Month, will take place on Oct. 15 from 6 p.m. to 8:30 p.m. The event will have cultural performances, DJs playing Latin American music, games and giveaways.
"It's a great night for people to just come in and learn about our different music from Latin America and also to have fun … it's a really great way to end our month long celebration but also to continue on this dialogue of our culture throughout the rest of the semester," said Lara. 
To register for the event, visit hopin.to/events/noche-de-bailes-music-fusion-from-latin-america.
To find the link to the [email protected]/x Center's Teams channel, visit csusm.edu/latinocenter/.
The Cougar Chronicle: The independent student news site of California State University, San Marcos