Enola Holmes redefines feminism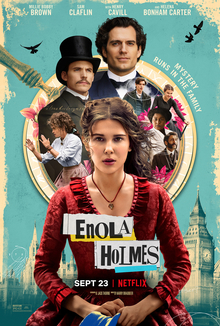 The film Enola Holmes is a tale of rebellion and adventure within the universe of Sherlock Holmes. 
Enola, played by Millie Bobby Brown, is a young woman with a brilliant mind whose talent lies in the meaning of words and ciphers. She is caught amidst familial troubles, England's political reform and the challenges of transforming from girlhood to womanhood. 
During this journey, she encounters her brothers Sherlock and Mycroft Holmes who both seem to have an opposite way of thinking. 
Sherlock Holmes, played by Henry Cavill, has a soft spot for his younger sister Enola and tries his best to support her independence. Mycroft, played by Sam Claflin, has a formal outlook on life and wants to contain Enola's rebellious nature. 
Both brothers make an astonishing presence in the film, but Enola takes the spotlight with her witty humor and charismatic energy. 

A unique element about the film is that Enola's character breaks the fourth wall by speaking to the audience directly. This allows viewers to engage with her story and feel as if they are accompanying her in her journey. 
Though Enola Holmes is a fun film for anyone to watch, it incorporates important messages about feminism and freedom of expression. 
Since this story takes place in late 19th century England, women have very little political influence on the issues that affect them. This film provides a historically accurate portrait about the treatment of women and the workings of political officials. 
Progressive characters like Eudoria Holmes (Enola's mother) and a young lord she meets, Tewkesbury, aid Enola in her complex and spontaneous journey. 
A very important piece of history implemented in this film is the women's suffrage movement. This movement's purpose was to change the laws on who could and could not vote. Women wanted their voices to be heard, and in the film, Enola helped make this change happen.
While Enola encounters many challenges throughout the film, she is able to tackle each problem  by helping herself, her friends and her family. Enola Holmes includes important themes about politics, family and love that can resonate with any person. 
This coming-of-age story smoothly brings enjoyment and societal issues into a mix so that the message can be well understood by the general audience. Viewers will love Millie Bobby Brown's performance as she characterizes the young and independent Enola Holmes. 
This film will leave its audience inspired to embark on their own journey of growth and to be more aware of the beauty and dangers of the world. 
The Cougar Chronicle The independent student news site of California