ASI Cougar Pantry continues distribution amid pandemic
During the COVID-19 pandemic, food insecurity is a concern for people across the country. 
Luckily, CSUSM students have access to a free, weekly food distribution. 
In a 2016 CSUSM survey, 50 percent of the students surveyed indicated that they struggle with food insecurity. This is more than double the CSU system average of 21 to 24 percent. 
More than half of the students surveyed said they did not know where their next meal was coming from or that they skipped meals due to issues with money.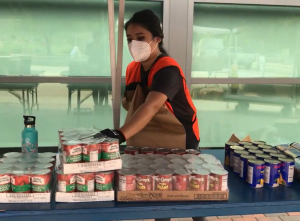 ASI and the campus community paid attention to these numbers and decided the best way to battle food insecurity on campus was to create a food pantry. 

On April 27, 2016, ASI President Tiffany Boyd signed a resolution to found the Cougar Pantry. The pantry opened in spring 2017 and has been serving students ever since. 
With the pandemic impacting jobs, finances and schedules, the Cougar Pantry is a resource for all CSUSM students to get proper food and nutrition. The pantry is covered with the cost of the ASI fee so it is completely free for students.
During the pandemic, the pantry has walk-up or drive-up options for food distribution. The process is simple and safe. 
Students can pick up food from the Cougar Pantry by visiting Campus Way Circle on Wednesdays from 10 a.m. to 12 p.m. There are also pickups for Fresh Market Mondays available every Monday from 8 a.m. to 10 a.m. 
If students can't make the designated pickup days, an appointment can be made for a Thursday pick up anytime from 8 a.m. to 10 a.m. at appointments.csusm.edu. Once logged in, click on "new appointment" and choose "Cougar Pantry Produce Distribution" from the center list.
Both pantry staff and students picking up food distributions are required to wear a mask. 
The first step to the pickup is for students to show their physical or virtual ID card to the pantry staff. Staff will then ask if there are any dietary restrictions they should know about.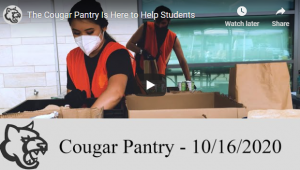 If students are doing a drive-thru pickup, they will simply pop their trunk and wait for a staff member to place food in the vehicle. If students are walking up, they will just wait for staff to finish packing a bag of food.
Despite the challenges the pandemic may pose to students and the campus community, resources are always available on campus. 
Any student facing food insecurity is welcome to the Cougar Pantry's free weekly distributions. 
For further information, check out csusm.edu/asi/pantry/index.html.
The Cougar Chronicle: The independent student news site of California State University, San Marcos