Over the Moon represents Chinese culture and realistically depicts childhood loss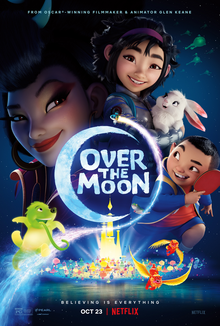 Netflix recently released Over the Moon, an animated film beautifully portraying Chinese culture as Fei Fei (Cathy Ang) goes on a lunar adventure to find the Goddess of the Moon, Chang'e (Phillipa Soo). 
Many moons ago, Chang'e took both immortality pills causing her to be ripped away from her true love, Houyi. 
Since his death, she remains on the moon with her sorrow and her companion, the rabbit on the moon. 
The Chinese tale told by Fei Fei's late mother becomes the fuel that sparks Fei Fei's determination to go to the moon. 
Her parents were her representation of the love Chang'e and Houyi had. Now, it's her job to bring back proof of Chang'e to stop her father from remarrying and forgetting his true love. 

Amongst her and her bunny, she mistakenly brings along her almost-stepbrother-to-be Chin (Robert G. Chiu). 
This film doesn't just show the curiosity or sorrow of a grieving girl, but also the willingness to move on and the happiness that can arise from it. This uplifting film brings to light numerous life lessons. 
The characters are charismatic and whimsical.  While the film is animated, it does portray musical scenes with a magnificent soundtrack. Over the Moon allows the audience to better understand a different culture with the food, language, legends and locations represented. 
Throughout the beginning of the film, the director Glen Keane includes various parts that foreshadow what is bound to happen in the film. 
This film is very different from other animated films in which this one grasps onto a sad theme and turns it upside down.
 The ongoing theme presented in the film is grief. The loss of Fei Fei's mother causes her to drastically cut her hair. 
All throughout Fei Fei never seems to give up. She is a determined individual that believes in the impossible like creating a spaceship to fly to the moon. 
Many of the situations she faces allow us to understand the truth behind grief. Even though you have lost someone, you can still find a way to be happy and to recognize the goodness that remains in your life whether through the people you have left or through the moments to come. 
A person isn't gone, instead, their memories live on through us. This film portrays this beautifully. For Over the Moon, you'll need a box of tissues. Preferably two. 
The Cougar Chronicle The independent student news site of California