CSUSM medical director discusses vaccine distribution and campus reopening
With vaccines coming out, some students are hoping that CSUSM may be an ideal location to receive their shots, but for places like Student Health & Counseling Services (SHCS), the ability to give out vaccines might not be as easy as it seems.
As of now CSUSM hosts the largest vaccine center in North County. The site is run by San Diego County and the staff come from Palomar Health, UC San Diego Health and Tri-City Medical Center.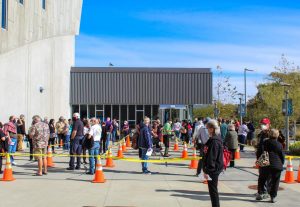 The county gave out over 300,000 vaccinations in January alone across its various vaccine centers, according to Board of Supervisors Chairman Nathan Fletcher. 
Currently, vaccinations only go to those who are eligible. This includes healthcare workers, nursing home staff and those age 65 and older. Vaccine eligibility will be expanded to 16 to 64 year old individuals with certain health conditions and disabilities after Mar. 15. 
Students will first have to wait to be eligible to receive the vaccine. But with more vaccine sites opening in the future, this reality might come sooner than expected. Dr. James Chun, the interim Medical Director of SHCS, predicts sites will be opening more frequently by the end of the semester. 

"Hopefully by the time we get into the late spring and into the summer, not just San Diego County, but all the counties in California will have more vaccine sites where we can get a greater number of people vaccinated," said Chun.
Chun said he believes that students should become eligible for the vaccine before the start of fall semester.
"I would project that most college students would be eligible to get the vaccine by the end of the summer, so that would mean that pretty much most of the population will have been immunized by the beginning of the fall," said Chun.
For SHCS to vaccinate students themselves is unlikely. For local students, the vaccine center that exists on campus now will probably be the best location where they can get their shots. And with sites estimated to pop up more often in the coming future, it won't be their only option. 
This is also true for students in other counties, who will have access to separate vaccination sites entirely.
"A lot of our students live outside San Diego County since we're remote. If a student lives in San Bernardino or Riverside county, they can utilize whatever vaccine center happens to serve their particular county," said Chun.
With more vaccinations being distributed in the coming months, and since CSU Chancellor Joseph I. Castro announced that the CSU is anticipating a return to in-person learning this fall, it is probable that CSUSM students and faculty will be back on campus for the next semester. 
"It won't quite be to the same level, you're gonna have 14,000 people on campus at any given time, you know U-Hour and everything's crowded, probably not going to be quite like that," said Chun, "[but] it will definitely be much more lively than it is right now. We are working to increase that in-person experience to be much more robust in the fall, assuming there's no public health disasters between now and then."
Visit SHCS' website here. To keep up to date with any updates at CSUSM during the pandemic, visit this website.
Christopher King is a sophomore Political Science major at CSUSM and is now a staff writer for The Cougar Chronicle. He enjoys developing his writing skills along with his ability to analyze current events. In his free time he reads and spends time in Encinitas.
The Cougar Chronicle The independent student news site of California