Podcast virtually creates discussions about CSUSM Athletics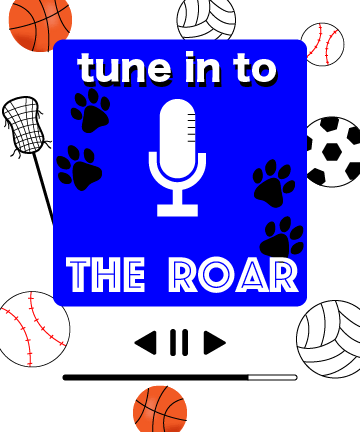 CSUSM Athletics launched a podcast called "The Roar" in November to discuss different aspects of their department. 
The idea of starting a podcast was originally pitched by CSUSM's Director of Athletics Jennifer Milo. The project has since been taken up by Mindy Mills and Tyler Morrison, Assistant Sports Information Directors, in an effort to execute Milo's vision.
"We wanted to get information out in a different way since we are virtual. We're not doing sports, we're not able to do that part of our jobs right now, so this is a good way for us to get our story out in a different kind of way rather than just writing releases on the website and doing graphics and social media," said Mills. 
With the recent shift to a predominantly virtual lifestyle this past year, a podcast seems like a good additional method of communication.  
The creators of the podcast hope to bring to light what goes on behind closed doors and to "tell about stuff that most people don't usually see when it comes to college athletics," said Morrison.

The goal is to get people to see that the Athletics Department is about not just actual performance but also about their development of community and encouragement of academic achievement. 
The first few podcasts have been focused on the basics of the department including compliance, operations and sports medicine. It aims to transition into topics about the team aspect of sports by interviewing coaches and student athletes. 
"The Roar" incorporates authenticity into their podcasts by crafting loose scripts and sending it to their guests before recording each episode. The idea of using loose scripts rather than providing direct questions allows for guests to respond genuinely. 
"This makes what [guests on the podcast] say a little more real and a little more personable," said Morrison.
Once CSUSM can transition out of a primarily virtual world, the Athletic Department hopes to conduct these podcasts face to face with their guests for more personalized content. 
Mills said recording the podcasts in person will make it "easy to interact and show emotion and be able to feed off each other rather than doing it over the computer."
They aim to communicate events and give listeners the behind the scenes of the events they host, such as the athletic banquet, and how much work goes into rewarding their student athletes.
Once sports can resume safely, the department plans to reach out to more student athletes and coaches to hear about their experiences with getting back into the swing of practicing in person with their teams again.  
 Audio versions of the podcasts episodes are available on Spotify, Apple Podcasts, Stitcher, TuneIn, iHeart Radio and the CSUSM Athletics website. A video version of the episodes are available on the CSUSM Athletics YouTube Channel. 
To listen to the CSUSM Athletics podcasts on their website, visit https://csusmcougars.com/podcasts.
The Roar podcast is inclined to putting out content that their listeners want to hear and they highly encourage any topic suggestions to be emailed to [email protected].
 Melanie Ramirez is a graphic design intern for The Cougar Chronicle. She is currently a junior at CSUSM as an arts and technology major. Melanie hopes to work in the entertainment industry after graduating. She enjoys watching films and shooting photos and loves to indulge in a good book.
The Cougar Chronicle The independent student news site of California