Although disappointing, limited guest seating for commencement makes sense as a way to protect peers and loved ones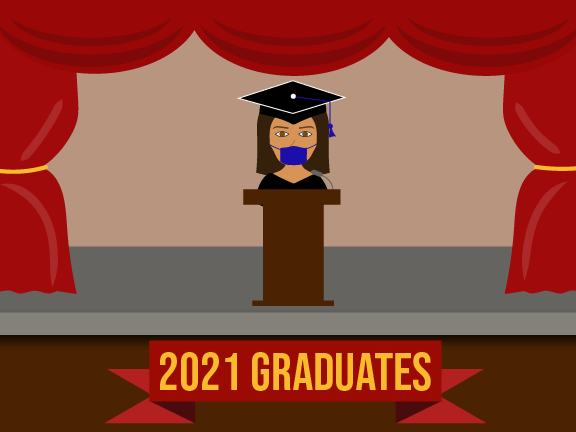 As the COVID pandemic is slowly declining and more are getting vaccinated, there has grown controversy surrounding reopening facilities for large gatherings.  One event that is greatly impacted by this controversy includes this year's commencement at CSUSM.
CSUSM is looking to limit the amount of guests for graduation this year, which has caused quite a stir among the graduating body of students. Although many are saddened by this move from  the school, it has been done in order to prevent a rise in COVID cases surrounding the school and students' families and friends.
Graduation is a momentous time for celebration; after years of schooling and hard work, students want to celebrate all they have accomplished over the years in order to get to this major milestone in their lives. Many are the first in their family to graduate from a university, so for them this is an especially ceremonious occasion, and normally, it is a cause for a large gathering of friends and family members.
This year, the school is finally able to open up for a graduation ceremony on May 22 and 23 on the Mangrum Track & Field, but students will only be allowed two guests per graduate. (The ceremony will be livestreamed on the CSUSM website and on the CSUSM app.)
For the ceremony, all guests will be seated in pairs per graduate, properly distanced six feet apart from other guests. The graduates will also have socially distanced seating, which will be properly cleaned and disinfected between ceremonies.
Although the limited number of guests is upsetting news for many, it is a necessary measure to protect the student body and their loved ones. While many are getting vaccinated or preparing to be, the school cannot guarantee that all attendees will be properly immunized. Thus, limiting the guests is the safest way to prevent any further spread of the virus. The COVID-19 pandemic is an extremely serious situation, so keeping cases down in order to protect those around us should be of a primary concern to us all.
CSUSM is doing a lot in order to keep COVID cases down, so limiting large gatherings to a set number of people seems like a smart move on their part. Additionally, all graduates and attendees will be required to wear a face mask or other types of face shields. Although each graduate is only allowed two guests, at least the livestream will also be available for other family members and friends to view.  An unedited copy of the recording will also be available approximately two weeks after the ceremonies are over.
As we are still in unprecedented times, this unfortunately feels like the best solution for the graduating class. Any larger celebration among family members and friends can be held personally, away from campus grounds. This measure is to prioritize safety, which is vital when peers and loved ones are involved. Limiting the number of guests will better protect everyone, as the celebration should not be tainted by the fear of spreading or receiving an illness.
All additional information on the commencement ceremonies can be provided on the CSUSM site, where guests and those related to graduates can sign up for the Commencement Newsletter.  Hopefully all will still be able to safely celebrate the graduates as they prepare for the next step in their lives.
Carolyn Cheng is a graphic design intern for The Cougar Chronicle.  She is currently a third year student at CSUSM and is majoring in arts and technology with a double minor in video/film production and film studies.  Post graduation, Carolyn hopes to pursue a career in film or video game editing.  In her free time, she enjoys watching Survivor, playing tabletop rpgs, and playing video games.