Athlete Spotlight: Q&A with Kassy Doering
Kassy Doering is a fifth-year computer science major at CSUSM. Doering is a middle blocker for CSUSM Women's Volleyball team and has played on the team since the Fall 2017 season.
COVID-19 put a strain on sports, forcing athletes—like Doering—away from the courts. But despite the extended break due to the pandemic, Doering is ready to make her senior season memorable.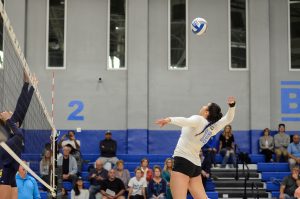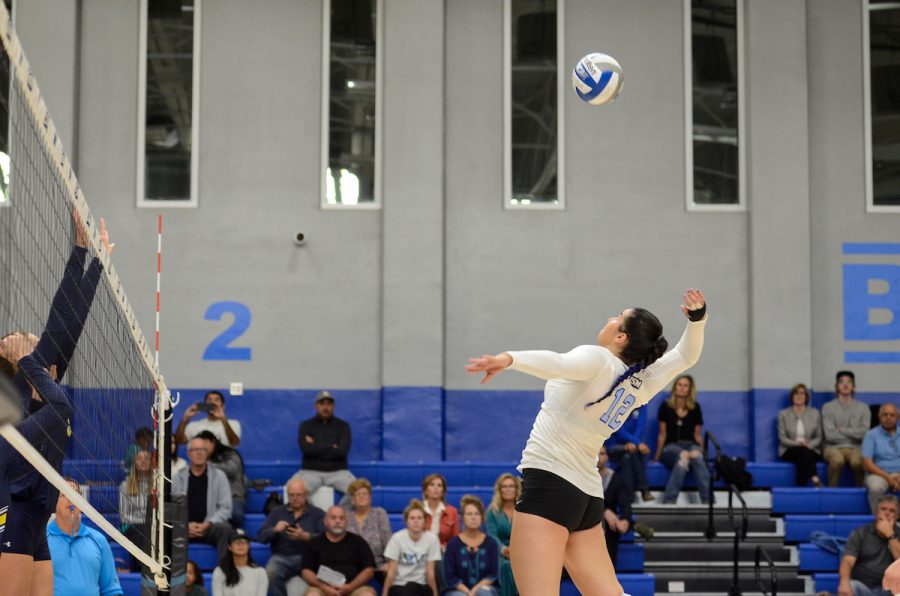 You just had a tournament last weekend, where I heard your game against Dominican went well. Were those the first games of the season?
No, we've been playing some scrimmages, but that tournament goes towards our regional rankings. In the past, it was just scrimmages. They give us a certain time [limit] to play as many scrimmages as we can. That was the first tournament that we won three out of five sets in a regular season, but we don't start conference play until Sept.16.
How does it feel to play this season after such an extended break due to COVID?
I'm so grateful that I got another season! With COVID happening and us [the team] not being able to get in the gym, I kind of took that time to focus on myself—in terms of physically and emotionally. I used my coaching job at a volleyball club to get those extra reps I wasn't able to get [here] at Cal State.
Did coaches give you a rundown of what you should be going over, or was it just individual training over the extended break?
Every week during COVID, we would have team meetings with our coach. We talked about doing things on our own time. Our physical trainer, Fernando Brown, gave us ideas of what we should do to start and progress from there.
In terms of volleyball workouts, our coach Andrea Leonard said, "make sure you're touching a ball." In this sport, with three days of not playing, you can get rusty. So, constantly having to touch a ball, whether it's setting against the wall, passing to yourself, anything you can to just maintain that touch.
What are you looking forward to this season? I know you mentioned this was your senior season; what goals/what are you looking forward to accomplishing as the season progresses?
For the past year and a half, our team has been meeting on Zoom every week and has established that team chemistry, and I'm just looking forward to seeing that team chemistry in action on the courts now that we're together in person.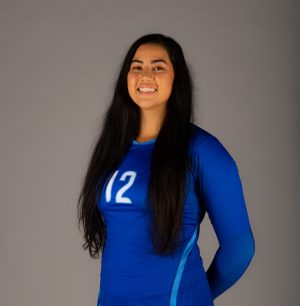 In terms of personal goals, play every day better than my previous best self.
Going back to the team dynamic, how was it like that first practice back? How was it like getting to know each other now that you are all able to meet physically?
Honestly, this team is the most well-bonded team I have ever been on. Straightaway, we meshed beautifully on the court. We had to brush off some rust after not being able to play collegiately for over a year. But after our first practice, we were already synched together and finding our rhythm already. Which, I think, is faster than any team I've been on.
What's the best part about playing volleyball at CSUSM?
That's a tough question because there's so many great things! Well, the best part about playing here at CSUSM is getting coached under Coach Andrea. That was one of the reasons why I came to this school, in terms of volleyball. Watching her coaching and how she made me a better player right away, just from a camp I went to. I'm like: "this is the coach I want to play under."
In terms of the best part, volleyball is [just] a family off the bat. You come in as strangers, and after the first practice, you're already family. In terms of what it entails, which is trust and support. It's what volleyball needs, especially on the court.  For me, that's one of the best parts, just developing that second family straight away.
Catch Kassy and the Women's Volleyball team in action at their first home game of the season on Sept. 16 at 7 p.m. in The Sports Center or on the CCAA Network.