Clery report indicates decrease in reported crimes on campus
CSUSM's annual security report (ASR) revealed that 2020 showed an overall decrease due to campus closures caused by COVID-19 in reported crimes except for burglary, which showed a slight increase.
Reported burglary increased from one reported burglary in 2019 to four reported offenses in 2020. Other slight increases in crimes included motor vehicle theft which has increased by one since 2019.
Drug law arrests on campus also increased in 2020, with seven arrests compared to four recorded for 2019. Despite the slight increase in drug law arrests, the report revealed a decrease in drug law referrals in 2020.
The annual report, published on Sept. 15, contains statistics from 2018, 2019 and 2020. The Clery report also reveals that no hate crimes were reported in 2020.
CSUSM's annual security report statistics are collected and compiled by the Clery Director and Clery Compliance Team (CCT). The statistics are compiled from the CSUSM Police Department, Dean of Students, Office of Residential Life, Title IX office, Athletics, Office of Human Resources, Faculty Affairs, individuals who are designated "Campus Security Authorities" (CSA) and local law enforcement agencies concurrent with campus jurisdiction over the Clery geography.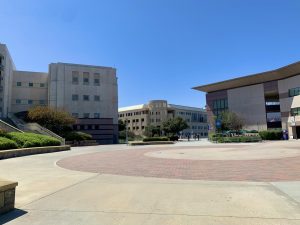 Geographically, the Clery report statistics reflect the crimes and offenses that occur on campus, public property within or adjacent to the campus and in or on non-campus buildings or property owned or controlled by the university.
"The report provides important information about available resources, security procedures, and practices, crime prevention programs, reporting options for victims, and more," according to Assistant Vice President of Compliance and Operations and Clery Director Brittani Brown via email.
Brown also mentions that the report has been updated since being published on Sept.15 with additional statistics.
The annual security report follows the Jeanne Clery Disclosure of Campus Security Policy and Campus Crime Statistics Act (the Clery Act) passed in 1990. The Clery Act requires universities to disclose that occur on campus, public property within or immediately adjacent to the campus and in or on non-campus buildings or property the institution owns.
In addition to the annual security report, CSUSM published its annual fire safety report. The report reveals an overall decrease in fire-related incidents in the University Village Apartments (UVA) and QUAD residential areas.
CSUSM remains one of the safest colleges in the country, according to a 2020 report from yourlocalsecurity.com. The report ranks CSUSM #19 out of 25 college campuses and is one of two California colleges on the list.
The annual security report is available at www.csusm.edu/clery/documents/2021asrfinal.pdf and for the fire safety report, please visit www.csusm.edu/housing/documents/2021firesafetyreportfinal.pdf.