Athlete Spotlight: Q&A with Ally and Megan Tomasetti
Twin sisters Ally and Megan Tomasetti are midfielders for the women's soccer team. Both sisters are kinesiology majors and are just starting their journey at CSUSM this fall. The Tomasetti sisters are eager to gain more knowledge of the sport and grow as individuals throughout their time at CSUSM.
What made you want to attend CSUSM and play soccer here?
A: We always knew we wanted to play soccer in college. We've been playing since we were kids. It's always been a goal and I have pushed myself and worked hard to get there. San Marcos wasn't really on our radar, but the coach [Bobby Renneisen] reached out to us at one tournament and was like, "we need two center mids and we'd love to have you on the team." We looked at the school because it was during COVID, we talked to the coach, and it seemed like a perfect fit for us.
M: We always grew up doing everything together, so we always knew we wanted to play soccer in college. We always knew we wanted to be together.
What has the transition been like from high school sports to playing at a collegiate level?

A: It's definitely a different level. You have to be on top of your game and your priorities. You have to be committed to your team, too; everyone relies on one another to do their best. It's honestly really nice. This team is so much more involved in our lives; they care so much more. If we need help with anything or a nice group to talk to, they're there for you. Compared to high school, it's serious.
M: It's more competitive. In high school, you just come, have fun and kick the ball around. In college, you have a goal. You're a part of a team. Your impact is important.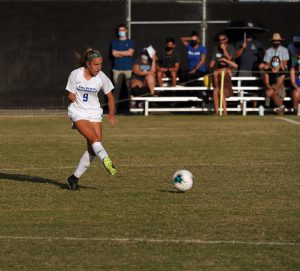 How does it feel to get to play following the pandemic?
A: During the pandemic, we couldn't travel a lot to soccer tournaments. We'd practice a little bit. It was kind of hard because it was kind of like, "I want to play." That's why I'm going to practice, getting more exposure in soccer, since I wanted to get recruited. It was stressful.
During that time, we were like, "this is our time to get ready and be fit." So, when the moment comes, we'll do well.
M: We just had to stay positive. Our soccer club was telling us, "We've got this," and even though we can have games, that's okay. Practice is just going to get you better. Everyone took that and treated it like a game. It helped and our mindset changed, giving our all at practice. It makes the process much more fun for me.
What goals do you have for yourself this season, and what do you expect to gain?
A: I just really want the experience of playing soccer at the college level. It's a different experience, and I want to become a better athlete. I want to become more knowledgeable about the game. Sports have helped me in my everyday life, like with my career. Just being in that atmosphere keeps me determined and responsible.
M: My goal is to learn something that I can take into the real world because you learn so many things through the sport. I've learned so many different things already. During college, you just learn so much and you don't even realize it. The people you meet, everyone comes from so many different areas, so you're learning even more.
How was it like to adjust to the established team environment?
M: At first, it was a little hard because we had only met through Zoom. We hadn't practiced with them before I committed, so I was a little nervous. When I first met them, it was exactly how it was on Zoom. They were so friendly; I was so happy.
A: I think because of COVID, everyone was ready to be back on the field. This is a younger team, so everyone is new to the process and that helped too. We can all help each other navigate through the process. The chemistry is really good on this team.
What has been your favorite part about playing for CSUSM so far?
M: My favorite part is just meeting people and feeling so welcomed. I knew this was the right place for me. Without the people, I probably wouldn't have come to this school to play soccer.
A: The environment. Everyone's energy level and drive. It was like our mindset; we wanted to go on a team where we are all pushing one another.
The Cougar Chronicle: The independent student news site of California State University, San Marcos