Cougar of the Week: Q&A with Panhellenic's Virgilio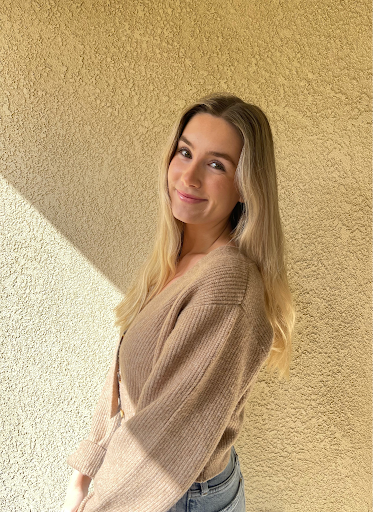 Anna Virgilio is the Panhellenic President at CSUSM for the 2020-2021 academic year. She is a fourth-year student who is majoring in speech-language pathology and is on track to an early graduation at the end of the fall semester. Virgillio is also a chapter member of Alpha Omicron Pi and a member of the  National Student Speech-Language Hearing Association (NSSLHA), a club  on campus.
How have your past leadership experiences prepared you for your role as Pahellenic President? 
My past leadership experiences as Alpha Omicron Pi's delegate and apparel coordinator helped prepare me for Panhellenic President. I learned how to work well with others and build ideas off one another. This gave me great experience in presentation skills and how to be a better leader. Applying for Panhellenic President was just the next step up into a role I wanted to take on and expand my experiences.
How do you manage to balance academics and your leadership role? Have you had experience with having to balance other leadership responsibilities outside of being president?
I believe I can manage both my leadership responsibilities as well as uphold my academics by staying very organized. I write down all of my responsibilities at the start of each month, adding new tasks to it throughout the weeks. Being able to visually see the date and times for all my meetings and homework assignments allows me to plan ahead of time and get everything done. I have had to balance other leadership responsibilities outside of being president. I am an event planner for a club I am a part of, NSSLHA, as well as held positions in my own sorority, Alpha Omicron Pi.
How has your experience and involvement in Greek life affected your time here at CSUSM?
Greek Life has greatly impacted my time here at CSUSM. I would not be the independent and hardworking student that I am today without Greek Life. I have made so many friends and connections which have helped me land my past two jobs. Being a part of Greek Life gave me the opportunity to gain leadership and relationship skills. I can confidently say that I value and appreciate every Greek organization on our campus and strive to make new members feel as welcome as older members made me feel.
What are your personal and academic goals for the future? 
My main academic goal right now is to complete my final semester here at CSUSM off strong. I am currently applying to graduate schools in hopes to earn my Masters in Speech-Language Pathology. A personal goal of mine is to upkeep my running and exercise habits as it is a great stress reliever.
I also want to be as involved with CSUSM as I can, so I now work on campus in the STEM Center and go to lots of events. A fun goal I've been working on is being more kind and aware of those around me. I execute this goal by making sure I say hello to everyone that I pass on my daily runs and get to know new people.
What are some of the challenges that come along with your position as president? How have you resolved these issues?
"A challenge that comes along with my position as president is making sure that every sorority's voice and opinions are not only heard but valued. Working with five amazing chapters can be alot at times, but we all make sure that we all work together to build our great Greek community. We work on this by having bi-weekly meetings where a representative from each chapter gets to bring concerns, questions, and ideas to the table. Our Panhellenic team does the absolute best to ensure our sororities have the support they need to keep up their great work."
What are some tips you would like to share with anyone interested in this position or interested in becoming a member of the Greek community here on campus?
I would recommend this position to anyone interested in being involved with all the sororities as well as someone welcoming and outgoing. I think if you are interested in being a member of our outstanding Greek community, you should definitely go through recruitment. Meeting all the chapters allows you to see where your values are upheld as well as where you can see yourself finding lifelong friendships.
Greek Life has so many leadership positions so if Panhellenic President isn't for you, you can do fun jobs such as run Greek Week, hold recruitment events and regulate social media platforms.