Back 4 Blood is a fresh take on first-person apocalyptic games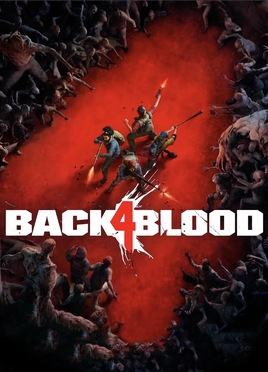 Back 4 Blood, a popular new first-person shooter, was released Oct. 12. The game was developed by Turtle Rock Studios, who is also behind the original Left 4 Dead game and is published by Warner Bros. Interactive Entertainment.
The game takes place in post-apocalyptic Pennsylvania, where non-infected humans find safety at Fort Hope. An alien parasite has devastated most of the population, turning humans  into ravenous, terrifying creatures. Like Left 4 Dead and Left 4 Dead 2, there are different types of zombies, each with their own weaknesses and special abilities. Back 4 Blood refers to these enemies as "the Ridden."
Players can choose one of eight characters: Walker, a seasoned veteran; Hoffman, a doomsday prepper; Holly, a college student; Karlee, a mysterious loner; Evangelo, the charismatic new guy; Doc, the team medic; Jim, a hunter and Mom, the strong mother figure. Different characters aren't just for looks—each has unique attributes, such as Mom's instant revive or Evangelo's boost to stamina regeneration.
The game also has a campaign mode, which has three difficulties: recruit, veteran and nightmare. Additionally, players also have the option of player versus player. Unfortunately, Back 4 Blood currently has no support for local co-op. The multiplayer option is only available for online play, where you can slay "the Ridden" alongside three friends. Players can also enter lobbies to queue up with strangers.
Prefer to play alone? Players can run a single-player campaign alongside bots.
One exciting and notable mechanic in Back 4 Blood is the decks of cards. Similar to perks, cards add buffs and bonuses to gameplay. Players can find new cards littered throughout the maps or by purchasing advancements through supply lines. By completing campaigns, players earn supply points. These supply points can then be used to buy cards and cosmetic upgrades, functioning similarly to a battle pass. Assembling decks and using supply points can be confusing— even a bit of a nuisance— at first, but practice eventually makes perfect.
With eight characters, hundreds of cards and over 30 weapons with tens of various attachments, the customization possibilities are extensive. Paired with three difficulties and multiple variations of "Ridden," Back 4 Blood guarantees that every round is a unique experience. To further ensure replayability, Back 4 Blood introduces a "game director." The game director, an AI, may swap up item locations, enemy spawns and even play corruption cards, which gives "the Ridden" their own special bonuses.
Overall, Back 4 Blood is a refreshing, unofficial successor to the old Left 4 Dead games. If you've spent the last decade hoping for a Left 4 Dead 3, then Back 4 Blood is definitely worth a try. 
Back 4 Blood is available to play on Windows, PlayStation 4 and 5, Xbox One and Xbox Series X/S.