Cougar of the Week: Q&A with AOII President Bailey Schmidt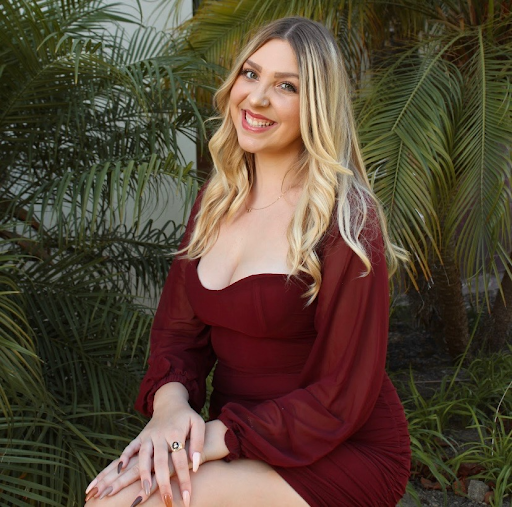 Bailey Schmidt is the President of Alpha Omicron Pi for the 2020-2021 academic year at CSUSM. She is a fourth-year student from Whittier, California majoring in Psychology and is on  path to an early graduation this upcoming December. 
Bailey is a member of three honors societies on campus including the Order of Omega, Gamma Sigma Alpha and Psi Chi. She is also an active member in the Psychology Student Organization and a Girl Scout leader outside of her academic responsibilities. Bailey currently works as a Fraternity and Sorority Life Student Assistant. 
What does being President mean to you? 
To me, being president gives me an opportunity to help my chapter grow and become even better than it was in past years. Throughout my term, my main goal was to make sure that my Leader's Council Officers and the members in my chapter had the support they needed to have a successful experience in AOII. I work very hard to make sure that every member feels like they are making the most of their experience and in doing so have the support of all of their sisters. Another important part of my presidency is to help AOII as a whole by maintaining everything that we are and have built throughout my time in the sorority. I have had such an amazing experience and I just want to be able to give that experience to the other women in the chapter. 
What was the most challenging experience you had during your presidency and how did you deal with it? 
I think that the most challenging part of my presidency is that half of it was online, seeing as the pandemic affected our ability to be in person. Seeing as most events were online, some women did not have the drive to go to virtual events, so I think that I really struggled to help women during that time. However, because our chapter is so strong we have been able to overcome this obstacle and now that we are in person, we are having events every week to make up for the lost time. These events have really allowed our women the opportunity to connect better and regain the support they need to help them be successful within their academic and personal life. 
How has your experience and involvement in Alpha Omicron Pi affected your time here at CSUSM?
In all honesty, I think that Alpha Omicron Pi is one of the leading reasons why I love CSUSM so much. AOII gave me a sense of belonging on campus and allowed me to make friends who I will have in my life forever. These friends helped me not only develop myself socially, but academically as well. 
My sisters always push me to be the best version of myself and put my all into everything I do, especially college. AOII actually helped me get my job as the FSL student assistant because Megan Ceppi, the Fraternity and Sorority Life Coordinator, put me in contact with the SLIC office and if it weren't for my monthly one on one President meetings with Megan, I would not have gained that connection. It was through this job that I actually realized that I wanted to go into a career in Student Affairs so not only has AOII helped me in my experience at CSUSM, but also my future grad school experience. 
What are your personal and academic goals for the future? 
Personally, my number one personal goal in life is to be happy and love the life I live. I think that being happy is such an important part of life because even if you have it all, you really have nothing if you aren't enjoying all that you do. Therefore, I want to live a life full of happy moments and surround myself with people who make me feel loved and supported. I also plan to have a family one day and be a support system for my children because that is what my mom is for me. She is the person that has made me into the caring woman I am today. 
Additionally, my academic goals are to get my masters in student affairs and go into a career in which I can help college students create a college experience they will remember forever, just like I did. I also feel like throughout my roles as a leader, I grew so much into the woman I am today and I want to help college students grow into the best version of themselves. 
How have your leadership experiences in the past prepared you for your role as President? 
I think that my leadership roles in the past have prepared me for my role as President because they gave me the ability to have confidence in myself to lead. I have been a leader since High School as I served as Class President for three years and then immediately jumped into a leadership role in AOII as Secretary and then I also served as Vice President of Chapter Development. I truly believe that all of these leadership roles taught me what it means to be a leader and gave me a foundation to be President. 
Although in my experience as President of AOII, I think that I learned the most about leadership as well as life in general. This position taught me patience, understanding, time management, delegation, and so much more. I truly am so glad to have had the opportunity to lead such an amazing group of women and this experience is irreplaceable. 
How do you feel about graduation? What are some tips you would like to share as an outgoing fourth-year student? 
Graduation… WOAH, that hasn't set in yet! Although, I do feel very excited and I am beginning to feel like all the hard work paid off. I am a little scared about this next chapter I am about to enter in my life but I also can't wait for all the possibilities that are going to come my way. I am so grateful for my time at CSUSM and I can't wait to see where I will be spending the next two years of my life as I pursue my masters in student affairs. 
If I have any tips and tricks it would be to enjoy every moment- college goes SO quickly and before you know it it's over so go to that event, stay up all night studying so you can ace that exam, say hi to your classmate sitting next to you, do it ALL because before you know it you will be a graduating senior like me and you want to leave with no regrets.