CSUSM holds event for departing faculty and staff
The Office of Human Resources hosted a farewell event for departing CSUSM staff and faculty on  Dec. 2 in the USU Ballroom. 
According to the Office of Human Resources, "we had about 60 faculty and staff from all across campus participate in our Early Exit Program." 
The program is part of a larger plan to make adjustments that meet future needs of the university to avoid layoffs and intended for those nearing retirement. Employees can voluntarily part or retire from CSUSM as part of EEP "no earlier than Dec, 15 and no later than Dec. 31 and receive severance pay in exchange.
All universities in the CSU system are participating in Early Exit Programs in response to Governor Gavin Newsom reducing funding for CSU campuses last year.
 The celebration began with an address by CSUSM President Ellen Neufedlt. She expressed gratitude for the work her colleagues have done during their time at the university.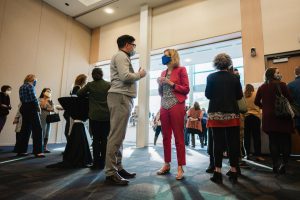 A video montage of retirees followed. In the video, staff members reflected on their time at CSUSM while some shared their favorite campus memories.
Notably, outgoing faculty and staff spoke of the development they have witnessed during their time at the university, as some watched CSUSM be built up, said Susie Martinez, a human resource coordinator. 
Steve Watters, a project manager at CSUSM, shared that he has had a hand in "pretty much every building on campus," including the USU and numerous athletic developments. 
Pride made its way through the screen when faculty and staff reminisced on the emerging university they've been part of. 
"Being a part of a growing university, and the library from literally the ground floor, literally the get go, has been an incredible experience," Library Service Specialist Cathie Dorsett said in the video. "I'm extremely proud of the accomplishments that this university has done in its relatively short time."
Another overarching theme of the event was campus community. 
Administrative assistant of the Office of Inclusive Excellence, Marilyn McWilliams said, "Being here on campus was very, very fulfilling. I was involved with them (students) on a daily basis."
After the video was projected to attendees, the reception became a space for casual conversations as colleague reunions and conversations sparked around high top tables sprinkled with desserts and beverages. 
"It's not all just the big glorious things, it's all the little things too. We are all an important part of what makes the whole be as great as it is," Dorsett said. "Every single one of us is important and every single student is worth it."
For more information on the Early Exit Program, please visit https://www.csusm.edu/hr/eep.html.