Weaver pleads guilty to rigging ASI election; faces up to 3 years in jail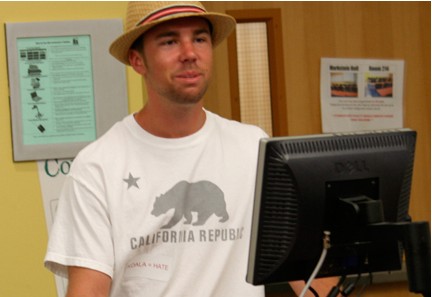 The Cougar Chronicle staff
SAN DIEGO — Matt Weaver, the former CSUSM student charged last month with attempting to rig the 2012 ASI student elections with stolen identities, pleaded guilty to three charges in federal court March 21.
According to court records, the 22-year-old former business major from Huntington Beach will be sentenced on June 17 in the federal district court of Judge Larry A. Burns. He is facing from 27 to 33 months in federal custody.
As part of the plea agreement Weaver signed with prosecutors from the U.S. Attorneys Office, Weaver pleaded guilty to counts of wire fraud, unauthorized access of a computer and identity theft.  The complaint detailing the charges said that Weaver admitted  to devising a scheme to defraud Cal State San Marcos by rigging the Associated Students Inc. elections in March 2012, where he was one of two candidates running for ASI president (a job with an $8,000 annual salary).
From January to March 2012, Weaver admitted that he installed keylogging devices on several on-campus university computers to obtain the user IDs and passwords of 745 students and staff, which he stored in electronic spreadsheets on his Apple MacBook Pro laptop computer.

During the weeklong election in March 2012, he used the students' identities to cast more than 480 votes for himself, and for four of his friends who were running for other paid ASI positions.
Weaver was arrested on campus on the final day of voting, March 15, when staff in the university's IITS department noticed strange voting patterns from a single computer  in Academic Hall. The IITS staff were able to remotely access Weaver's computer to watch him cutting and pasting other students IDs into online ballots,  and another technician entered the computer lab where Weaver was sitting and filmed his activities with a cell phone camera.
As part of the plea agreement, Weaver also admitted that in an attempt to deflect suspicion about his guilt to his opponent in the ASI election, he created fake Facebook pages that purported to show conversations among other candidates attempting to manipulate the election.
Weaver was ordered Thursday to forfeit his computer, memory sticks and cell phone as part of the plea deal. He also negotiated an agreement that will allow him to travel to Missouri for a family obligation (March 28-April 3).
ASI election season is now under way on campus again. Since last year's incident, the university's IITS department has taken steps to prohibit vote tampering. Weaver's crime was the largest case of identity theft in CSUSM history.
During his time at CSUSM, Weaver also served as the lead editor on The Koala, an alternative student newspaper that raised a great deal of controversy on campus in 2011 and 2012 with its racist, misogynist and homophobic content. Since Weaver left campus last spring, the Koala has not printed another issue.
The Cougar Chronicle The independent student news site of California