Supreme Court hears oral argument regarding Prop. 8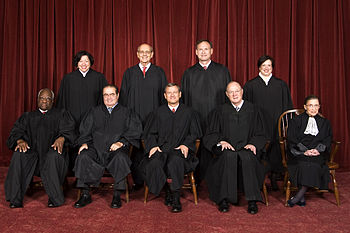 By Melissa Martinez
News Editor
California's gay marriage ban, otherwise known as Proposition 8, made its way to the Supreme Court where oral arguments were held on Tues. March 26.
In the case of Hollingsworth vs. Perry, Charles J. Cooper presented an argument on behalf of the petitioners to ban gay marriage in the state of California.
During the argument, it is evident that the justices are not sure whether the argument should be considered since California officials declined to defend the proposition, leading the justices to challenge their argument by saying the proponents had no personal injury at stake. The justices made it clear that there was no "standing" for Cooper and the petitioners to sue. However, Cooper argued that the proponents' injury was to the state.

"But, Your Honor, I guess the point I want to make is that there is no question the State has standing, the State itself has standing to represent its own interests in the validity of its own enactments," Cooper said.
Cooper's argument insisted that though there is no personal injury to same-sex marriage, the state experienced injury in same-sex marriage.
Justice Anthony M. Kennedy stated that the injury was not to the state, but to the 40,000 children of same-sex couples.
"On the other hand, there is an immediate legal injury or legal — what could be a legal injury, and that's the voice of these children. There are some 40,000 children in California, according to the Red Brief, that live with same-sex parents, and they want their parents to have full recognition and full status. The voice of those children is important in this case, don't you think?" Kennedy said.
"That consideration especially in the political process, where this issue is being debated and will continue to be debated, certainly, in California. It's being debated elsewhere. But on that — on that specific question, Your Honor, there simply is no data," responded Cooper. "In fact, their expert agreed there is no data, no study, even, that would examine whether or not there is any incremental beneficial effect from marriage over and above the domestic partnership laws that were enacted by the State of California to recognize, support, and honor same-sex relationships and their families."
With this, the justices agreed that the opinions of children of same-sex marriages should be considered and since 40,000 children in the state if Calif. stated that they wanted their parents to have legal marital status. Cooper argued that the affect of being raised by a same-sex couple would lead to emotional injury, regardless of what children believed.
Supporters of Prop. 8 also argued that same-sex marriage would harm "responsible procreation," because same-sex couples would not be able to reproduce.
Justice Elena Kegan and Cooper both discussed the whether the value of marriage lies in procreation or not, giving examples of marriage being constitutional between couples over the age of 55.
The justices agreed that there are heterosexual marriages that are unable to procreate or decide not to, which ignited the discussion about elder couples unable to procreate.
The next argument consisted of discussing labels, with Chief Justice John G. Roberts Jr. Reminding the court that the word "marriage" was a label since Calif. has already made strides in creating equal rights for same-sex couples.
"It is like you were to say you can vote, you can travel, but you may not be a citizen. There are certain labels in this country that are very, very critical," Olson said.
With the discussion continuing, the justices considered issues of when same-sex marriage became unconstitutional, explored the idea that same-sex marriage was "newer than cell phones and the Internet."
Chief Justice Roberts Jr. reminded the court that children from same-sex marriages are at no disadvantage than children of opposite-sex couples when Donald B. Verrilli stated that the cost was a lack of a stabilizing effect, creating the children to develop an emotional issue of being raised by same-sex parents. The argument consisted of the justices each asking critical questions for the opponents to consider using history of segregation to defend their arguments.
To read the transcript of the oral arguments presented to the Supreme Court, visit, npr.org/2013/03/26/175351429/audio-supreme-court-arguments-on-california-gay-marriage-ban
The Cougar Chronicle The independent student news site of California