Senior Standouts: 2013 sports year in review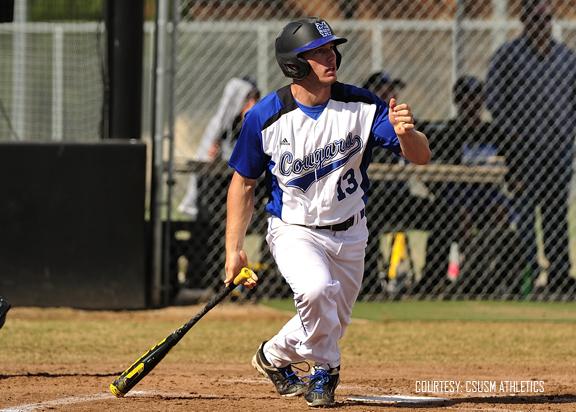 2013 Year in Review: Senior Standouts
Alex Franco
Kyle Secciani, Center Fielder, Baseball: Kyle has been a starting outfielder for the CSUSM baseball all four years he has been on the team and is the program's all-time leader in runs, triples, walks and stolen bases, and also is in the top 10 of batting average, games played, doubles, hits, RBIs, total bases and fielding percentage. Throughout his career he was able to bat .300 in all four of his seasons, and this year is hitting .306, with a homerun, 32 RBIs, 30 runs, 6 doubles, and has stolen a staggering 17 of 20 bases. He helped the cougars to a top 25 ranking every week this season and also a second A.I.I. Conference title this weekend and was named the tournament's most outstanding player. Kyle was also announced to the Capital One/CoSIDA Academic All-District 8 Team capping off an amazing career at CSUSM.
Cortney Allen, Pitcher, Softball: Cortney has made the most of her two years at CSUSM since transferring from Sacramento City College in 2011. In her first year with the program, Cortney went 24-6 with a 1.07 ERA and 17 complete games, which was enough to earn A.I.I. Conference Pitcher of the Year. This year Cortney has done much of the same for the team going 31-4 with 4 saves with a 0.90 ERA and 18 complete games with 13 shutouts and 157 strikeouts. She is first in the NAIA in wins, fourth in total innings pitched and seventh in ERA, which was enough for Cortney to be named A.I.I. Pitcher of the Year once again when the team was announced last weekend.
Jose Rivera, Guard, Basketball: Jose had a season to remember in his final one as a Cougar, he helped lead a CSUSM basketball team qualify for their first-ever NAIA National Championship Tournament appearance and to a 23 win season in the programs second year. The senior shooting guard was named to 2012-13 NAIA Honorable Mention All-American team to become the second cougar to do so and was also selected the A.I.I. All-Conference First Team . Jose averaged 11.2 points per game, and shot 42 percent from the field and a league leading 43 percent from behind the 3-point line and also led the team in total points with 335 and made 3-pointers with 92.

Sarah Jackson, Guard, Basketball: Sarah had a great season as she and the rest of the lady cougars attempted to repeat as conference champions but just came up short, however Jackson led the team in assists and steals on the season. The 84 steals she accumulated was enough to rank 13th in the nation and 16th with 2.8 per game. Her game high in points in a game this season was 16 against William-Jessup, she also dished out five or more assists 10 times this season.
Shelby Bush, Forward, Soccer: Shelby will depart from CSUSM with her name amongst some of the best soccer players to play in a Cougar uniform. She is second place on the programs all-time list of goals with 23, total points with 55, and 8 game-winning goals. Shelby also places fourth on the assists list with nine. She led the Cougars with 14 points this season with five goals and four assists, good enough to make both the A.I.I. conference first team and NAIA All-American Honorable Mention Team.
Brittany Thompson, Outside Hitter, Volleyball: Brittany began the season as one of head coach Andrea Leonard's Co-Captains and team leaders to take the second year volleyball program to the top of the NAIA. Brittany did just that and helped the lady cougars volleyball team to a second A.I.I. Conference Title and performed well enough to be named the tournament's All-Tournament Honorable Mention Team. Brittany appeared in the team's 45 games and led the team in solo blocks, total blocks, and serving percentage; she also finished second in hitting percentage and third in kills with 223. She recorded six blocks two different times this season, and with that she graduates as the program's career leader in blocks with 139.
Kelly Thompson, Cross Country: Kelly led the CSUSM to another spectacular season this year entering the season ranked number 1 in the NAIA after three straight NAIA National Championships. Kelly placed third overall in the A.I.I. All-Conference team, and finished with 224 points in the NAIA National Championships to lead the Cougars to a fourth place finish to help the Cougars' streak of five straight podium finishes in the NAIA Championships. She added her third NAIA All-American award with a fifth place overall finish and was named a Daktronics-NAIA scholar Athlete.
Daniel Lyon, Cross Country: Daniel contributed greatly to the 2012 Cross Country season, helping the Cougars win a fifth consecutive A.I.I. Conference Championship and a third place finish in the NAIA Championships. Daniel also smashed the school record for the 8k by 30 seconds with a time of 23:44, and also won his second consecutive conference individual championship with a 24:18 time. Daniel added his third NAIA All-American award with his performance in the national championships.
The Cougar Chronicle The independent student news site of California