Comic fest takes convention back to its beginnings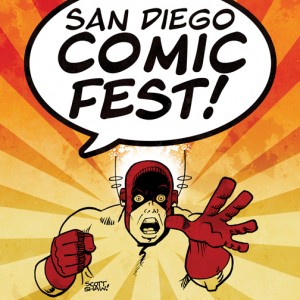 Hang on for a minute...we're trying to find some more stories you might like.
By Katherine Ramos
Staff Writer
San Diego International Comic-Con, the biggest pop culture convention in North America grew to huge proportions since its start in 1969, and has been steering away from the comics.
Never fear comic fans. Mike Towry, one of the founding fathers of San Diego International Comic-Con (SDCC), has come together with co-founders and committee members to bring the second San Diego Comic Fest this Friday, Oct. 4.  This smaller, "intimate comic con experience" for the fans is a way to get back to the roots that made the con what it is today.
"It's not just a show that someone else is putting on for which you will be a mere spectator. Everyone at the Fest will have a share in making it a truly memorable experience," according to the site.
The Fest will be held at the Town and Country Resort and Convention Center this coming weekend.  Tickets will cost $25 for students for all weekend long and single day tickets will be available at the door for $12.50 on Friday and Saturday, $7.50 on Sunday, so the price is also reasonable. SDCF will host several industry guests such as Larry Niven, Richard Kyle, John and Bjo Trimble, Floyd Norman, Phil Tippet, David Lloyd, Ted Adams, Jeremy Shada and more.  There will be also an artist alley, dealer exhibitions, an art show, Q & A sessions with industry guests, the Draco Tavern based up Niven's 2013 short story series and a Masked Ball on Saturday. Comic Fest will run from Oct. 4 to Oct. 6. More information and weekend registration can be found on the web at http://www.sdcomicfest.org/