Director of Athletics, Jennifer Milo: Cougars Rise to the Tourney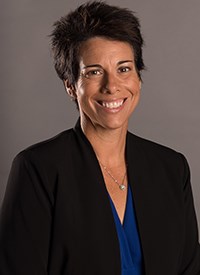 Hang on for a minute...we're trying to find some more stories you might like.
What is your role as Director of Athletics?
I oversee all 13 inter-collegiate teams, we have over 320 student-athletes and a paid staff of 45 including coaches, assistant coaches, support staff, and administrators. I oversee about a $5.5 million budget and all the athletic facilities and fields. My biggest responsibility is helping student-athletes obtain their degrees.
Years in the industry?
About 20 years. I been at the Athletic Dept. at Cal State San Marcos since 2005, prior to that I was at San Diego State University, and before that I was at the University of San Diego since 1997.
Where are you alumni from? What degree's do you hold?
I have two degrees from USD. I have a Bachelor's Degree in Education and received my teaching credential. I also have a Master's Degree in College Counseling.
Did you play any sports?
Yes, I played softball at USD for 4 years and my #44 is retired, I guess my biggest accomplishment is that I played every inning of every game for 4 years.
What's new at the Clarke?  
This is the first year that the Athletics Dept. has overseen 'The Clarke', we wanted it to really be more synergistic with 'The Sports Center'. You'll see our fight song on the walls and we also built an outdoor fitness center. We are really trying to improve the environment for all students so that it's not just student athletes coming in here but all students.
What were some of the biggest challenges you faced getting into the NCAA DII
It has been a 10-year goal for this institution, a lot that went into that 10 years as far as growth, such as adding teams, adding facilities, changing a culture, to a culture of compliance to abide by all the NCAA rules. It was a 3-year transition once we submitted our application three years ago in 2014 to become official members now.
What are you most excited about at the Athletic Dept.
This is the first year we can relish in our hard work as the last 2 years we have been ineligible for post-season as part of the transition. We are celebrating the fact that the women's soccer is taking part in its first CCAA post-season tournament, cross-country is headed for the NCAA regionals, volleyball will most likely compete in the CCAA post-season.
What's new this winter?
We just held our rally the "Cougar Madness" to kick things off which was a great packed event. Basketball will start Nov. 10. with the women taking on Cal-Baptist away and the men's basketball game will be home at 7pm against Biola.